Jun 25, 2007 Liza Wang redeems Poor Performance of TVB's Low Class Army
Translated by Jamie @ http://zazafied.blogspot.com
Source: various HK media
Liza Wang redeems Poor Performance of TVB's Low Class Army; Raymond Lam is Touched
CCTV held an event to celebrate the 10th anniversary of Hong Kong's Return to China. They held a "Same Song: ITAT night" major concert at the top floor carpark of Hoi Wun Complex. Over 10 celebrities participated in this event and was attended by 1500 people.
Apart from Hong Kong Celebrities, there were also celebrities from Mainland China, Liza Wang, Gordan Lam, Alec Su, Gigi Leung, Miriam Yeung, Lui Fong, Andy Hui. TVB also sent out Raymond Lam, Shirley Yeung, Bernice Liu, Tracy Ip etc. The hosts for the night were Eric Tsang, Dodo Cheng, etc.
Liza Wang, Ah Jie, : This is a good year
The concert started at 8pm sharp and Liza Wang was the first to appear. Wearing a stunning and elegant white dress, Liza performed 2 of her many memorable duets, "Love and Passion" and "Brave Chinese Citizen". Eric Tsang caused a roar of laughter when he introduced Liza by referring to her as, "The Queen of all Ah Jies" Liza talked about her feelings about HK's return to China on stage, "10 years has gone by, but this year is the best year. Hong Kong is doing well both politically and economically. We should appreciate what we have today as we worked hard to earn it. We should strive and persevere and work even harder for a better tomorrow.
Raymond Lam: Extremely touched
Andy Hui said that he is proud to be a chinese citizen. All the economic problems have been solved and Hong Kong is going through an economic boost. This is definitely the best year since Hong Kong's return to China. Raymond Lam said that he is not too familiar with the Chinese culture, but he is still extremely touched. He feels that Hong Kong's return to China has brought a lot of good things to Hong Kong both socially and economically. In addition, he feels that the Chinese consumer market is extremely huge and would attract many investors to invest in China. Even the celebrities are moving into the Chinese market.
TVB's bunch of "Low Class Army" gave a disappointing amd embarrassing performance. They lip-synced throughout the show. And when Eric Tsang interviewed them in mandarin, they were unable to give a good reply. Tracy Ip only gave a very short reply in english and then in mandarin. Bernice Liu did not even bother to reply in mandarin and asked if she can reply in english instead. Thankfully, TVB has Liza Wang as their saviour. Her appearance redeemed the faces of the Chinese citizens.
~Zazafied by: Jamie at 7:00 AM ~
Sep 10, 2007 Liza Wang's secret admirer
Translated by Jamie @ http://zazafied.blogspot.com
Source: Various HK media
Ah Jie, Liza Wang, is about to hold a series of concerts to celebrate her 40th anniversary in showbiz. Recently, she received a "gift" from a mystery person. That someone took a full page ad in the newspapers to wish Liza success in her upcoming concert. The advertisement said, (the below is a translated version):
Wishing Liza Wang's "I am Me" concert a huge success!
Unique,
A series of good shows will continue to be presented to the audience.
Loving you for a hundred years.
Liza Wang was present at a dance rehearsal yesterday and was asked to comment about the advertisement. Liza Wang exclaimed that she doesn't know anything until she was told by the media, and instead of answering the question, she directed the question back at the reporters, asking for the person's identity.
Liza said, "I don't think it is Mr Law Kar Ying who advertised, if he were to do it, he wouldn't do it on such a low profile. I also do not think that it is my fans as it is extremely costly to advertise a full page ad which is more than 6 figures." So far, only one celebrity has gotten a full-page ad as a present, that is Michele Monique Reis from billionaire Joseph Lau. Liza laughed and doesn't think that anyone is trying to court her. However, Liza also ruled out her friends as they do not normally surprise her with such things. Liza said, "As this person chose not to disclose his/her identity, I would respect that and wouldn't go searching for his/her identity. I would like to thank my secret admirer through the media. I am extremely happy as there is someone who is supporting me, but this gift is far too expensive, it is better if the money is used to buy my concert tickets."
Liza Wang's concert would kick-off on the 21st of September and has been rehearsing hip-hop styles lately. When asked if her costumes woud be sexy, Liza said, "I am not aiming for sexiness, I have 4 famous image designers working for me, and I have full confidence in them."
~Zazafied by: Jamie at 6:57 AM ~
Jun 25, 2007 Liza Wang might call Singapore home
MediaCorp News
Credit: http://www.channelnewsasia.com/stories/entertainment/view/265816/1/.html
Will next month's Mother's Day concerts be the last Singapore sees of Hong Kong's Heavenly Queen Liza Wang?
In a press conference on Wednesday to promote her two upcoming shows at the Singapore Indoor Stadium, Wang gave no indication that she's about to shun the Lion City.
But if it's left up to her, she could certainly do with a lighter schedule the next time she's in town.
"Over here, the rehearsals run from 9am to lunchtime, with only a 20-minute break in between," the 58-year-old entertainer said with mock exhaustion. "Back in Hong Kong, our rehearsals usually start in the afternoon. So, I get to sleep in the morning."
Even given some extra time off, there's no guarantee Wang would have had much rest during her latest stop here. After all, it has been a dozen years since her last full-length concert here and this time she has the added pressure of her first-time collaboration with the Singapore Chinese Orchestra.
Not that the 30-year-veteran of the international music scene isn't ready to get on with the show.
"I've performed with Hong Kong's Chinese Orchestra a number of times. So, there's the chemistry," she said. "While I have only rehearsed for two afternoons with the Singapore Chinese Orchestra, they have been very professional. So, I have absolutely no worries."
Well, there was the small matter of a meal that didn't live up to her expectations.
"I ate fish head bee hoon and otah but I wonder why they weren't as good as before," she said with a laugh.
Still, even her hectic schedule and a bad dining experience couldn't dampen Wang's enthusiasm for Singapore, which she considers her ideal destination if she ever decides to call it a career and find a new country to call home.
"The air in Hong Kong is bad because of the smog and the many high-rise buildings," said the outspoken performer, who has been a delegate to the National People's Congress and still holds a number of public posts. "And while we're paying more attention to legislation in Hong Kong, it's still inadequate.
"But the legislation here is good, the place is clean and green, and you've got a great concert hall — the Singapore Conference Hall — to rehearse in."
~Zazafied by: Jamie at 6:56 AM ~
[July 2007] Mrs Liu liked Adam Cheng and Liza Wang the most
Translated by Jamie @ http://zazafied.blogspot.com
source: Various HK media
The wife of a famous record company director, Liu Tong passed away recently. Her son and daughter held a function to remember their mother. Many famous stars attended the event, like, Liza Wang, Che Sook Mui, Wong Tin Lam, Yu Jing etc. However, Adam Cheng, Bak Shui Sin, Wun Siu Lun, Susanna Kwan were unable to attend the event but they collectively bought some flowers for their dear friend. Liza has known Mrs Liu for more than 30 years and spoke about their wonderful friendship on stage.
Lia feels that her music albums had sparked off her singing career and had earned her many awards. Liza said that she has quite a few memorable songs that still remains popular even until now..
Although Liza has released a few albums before signing with Mrs Liu's company, she recorded her first song under Mrs Liu entitled, "Cold dreams of the palace 《清宮殘夢》" She left the company for another company, "Wah Sing" but she still continued to record songs for Mrs Liu's company. (Does Mrs Liu adore you a lot?) Mrs Liu said that she likes Adam and me the most. Too bad Adam is unable to attend today's function, but nothing could be done about it as he has to film in Taiwan. I last saw Mrs Liu in May when I was awarded the Mont Blanc International De La Culture award. She was present at the award ceremony and she so happy for me that she even cried. She even praised me for my talents. At that time, she was already quite thin. (Did you learn anything from her?) She always told me that we have to always sing with our heart. She's a talented singer herself.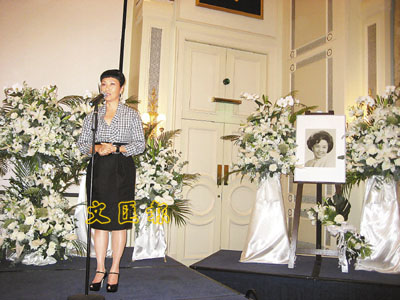 ~Zazafied by: Jamie at 6:54 AM ~
Sep 11, 2007 Law Kar Ying feels threatened by Liza's secret admirer
Translated by Jamie @ http://zazafied.blogspot.com
Source: Oriental Daily
Law Kar Ying was interviewed on a radio talk show yesterday and he confirms that he is not the "secret admirer" that advertised his/her love for Liza Wang in the newspaper. As for the "Love Rival" , Law Kar Ying said that he is willing to arm-wrestle him. Law Kar Ying sheepishly said, "I am feeling very helpless now. I am very anxious and worried, and this is definitely affecting my mood. " (Would you be attending Liza's concert as a guest?) "I may be able to, I will certainly try my best!"
~Zazafied by: Jamie at 6:52 AM ~
Aug 20, 2007 Liza's 60th birthday bash
Translated by Jamie @ http://zazafied.blogspot.com
Source: Various HK media
Liza Wang's official fanclub held a big birthday bash for Ah Jie. Her birthday actually falls on the 28th of August, but they had to arrange for an earlier date to fit Liza's busy schedule. The party was held at the "New World Hotel's Grand Ballroom". The crowd of Liza fans occupied more than 30 tables. This is a very special birthday party as this party was held not only to celebrate Liza's 60th birthday, but also to celebrate her 40th anniversary in showbiz. To add more joy to the happy occasion, Liza's fans also prepared a lot of activities to jazz up the party. However, as Liza is still filming for War of In-Laws 2007, she could only stay for a little while and had to leave to resume filming.
Liza arrived in an elegant Cheongsam and she revealed that this Cheongsam was originally a LV scarf and she specially made it for this occasion. (Did you inform LV?) Liza said that she doesn't know but she doesn't think it's necessary. Liza matched her outfit with a limited edition handbag with a pair of LV sandals. Liza added with a laugh that she is very happy with her cheongsam design.
As soon as Liza arrived, her fans immediately began singing the birthday song. A mainland China fan presented a edited version of Liza's "Love and Passion". Two Thai fans also performed a Thai "Happy Birthday" dance. Liza also received a tablefull of gifts from her fans.
When asked what is her birthday wish for this year, Liza said that being healthy is most important. What did Kar Ying Gor give you? "Nothing!" Liza also added that she is very busy lately as she has to finish filming for War of In-Laws 2007 and she also has a lot of preparation work for her upcoming concert in september. Liza said that she doesn't have plans to have a big celebration for her birthday as she is too busy.
Meanwhile, Kar Ying Gor attended a promotional activity for ATV recently and when asked if he has bought anything for Liza, Kar Ying Gor said, "I have already bought a present for her but it has yet to arrive. I have plans to have a birthday dinner with Liza."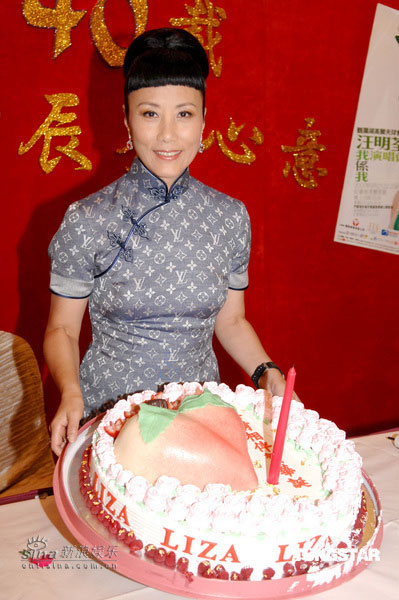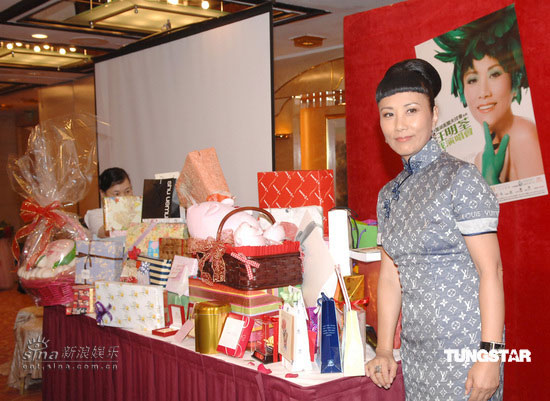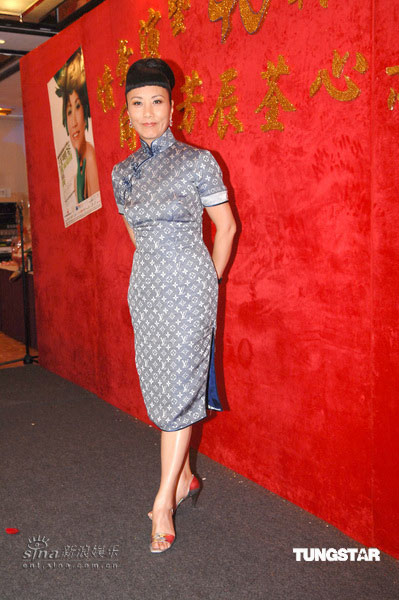 ~Zazafied by: Jamie at 6:50 AM ~
Jun 25, 2007 Liza Wang "electrifies" Co-star during "WOIL
Translated by Jamie @ http://zazafied.blogspot.com
Source: various HK media
Liza Wang "electrifies" co-star during WOIL2007 filming
Ah Jie, Liza Wang, was filming a scene for TVB's latest film <
>. Liza would be playing a fashion magazine editor in the WOIL sequel. For yesterday's filming, Liza had to "argue" with a male co-star at a restaurant in Tong Loh Wan. Liza was extremely "deh" (whiny in a good and "sexy" way), the "electrification" almost made her co-star faint.

Ah Jie, known for her professionalism, finished the scene in one take, enabling everyone to wrap up filming much earlier than scheduled. However, despite the efficiency, Liza is still extremely busy lately as she still has a lot to do. In the previous day, Liza had to film until 2 am in the morning and had to start filming again the next morning. Hence, Liza has to treasure her time and leave as soon as she finish her scenes for the day.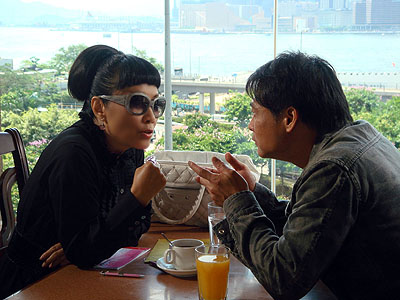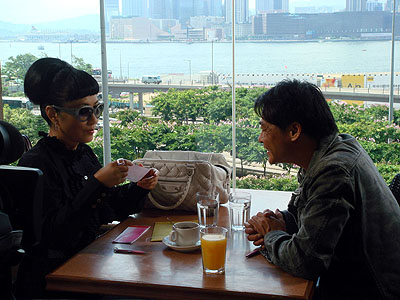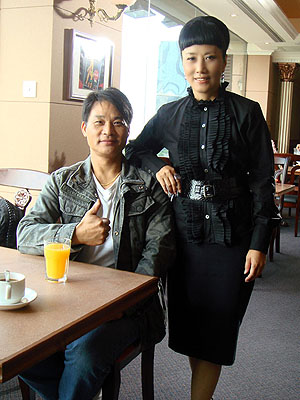 ~Zazafied by: Jamie at 6:48 AM ~